DGme Paystub is an online employee portal for new and current Dollar General employees. DG Paystub is a self-service portal designed to provide all employees with convenient access to information on compensation, W2, benefits, career advancement programs, and employee support programs.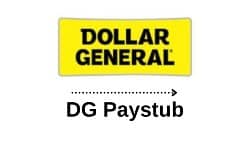 The site is very convenient to buy different categories of products, whether its clothes for ourselves or our loved ones, home decor items or appliances, or weekly shopping to fill our fridge and our lunch box, to name a few examples.
The company is known for taking good care of its employees. Dollar General's benefits package clearly reflects its commitment to investing in the well-being, professional development, and financial health of its employees.
Know About Amazing Benefits Of The Portal
If you plan on working for Dollar General, here is a list of the benefits you can expect:
Be Blessed
Life insurance
Health, dental, and eye insurance
Short-term and long-term disability
Accident insurance coverage (business travel)
Parental leave
Health insurance (accident, serious illness, cancer, hospitalization)
Adoption assistance
Flexible expense accounts
Legal plan – MetLaw
Identity Theft Protection – LifeLock
Savings and retirement provision
Retired couple at the bank
Employees can use the Dollar General 401(k) Retirement and Savings Plan to prepare for retirement:
Contribution of 25% of your income before taxes
Use available investment opportunities
Immediate Acquisition: Employer Matching Program
Wellness program for employee behavior, financial and physical health
Employee Assistance Program – Legal Advice and Legal Assistance
Financial assistance – Employee discounts on auto, home, and pet insurance
Healthy living programs and disease management
Onsite support and employee bonuses at all branches
Nursery
Dry cleaning
Dress for your day DG
Academy
Compensation and bonus program
Competitive salary
Leave and paid leave
An annual bonus for qualified employees
Service Recognition Award
Origin and development
Training program for store managers
Scholarship program
University Alliance Program